The Ada County Jail in Boise, Idaho is a county jail facility run by the Ada County Sheriff's Office. The Ada County Sheriff's Office is the largest law enforcement agency in Idaho and is run by Sheriff Stephen Bartlett.
The Ada County Jail was originally constructed in 1977 at the same time as the Ada County/ Boise City Public Safety Building. At the time, the jail was built to hold a maximum of 160 inmates and 32 work-release prisoners. The jail has grown since that time, and the current total inmate capacity is 1217.
Inmates at the Ada County Jail are classified using a risk assessment system. Classification involves looking at the inmate's past criminal history and any other known history that would impact risk assessment; this includes criminal charges and non-criminal behavior. They also look at the inmate's behavior while in custody, but at the time of the present incarceration and from previous incarcerations. If the inmate has any physical or mental disabilities, those are considered when assessing risk. This system attempts to place inmates with other inmates who pose a similar risk, allowing the jail to better insure the security of all inmates and the jail staff.
The comprehensive classification system assigns inmates to security levels. Like other jails, the Ada County jail uses the Minimum-Maximum security range for inmate classifications. Minimum security inmates are considered the lowest risk and are permitted the highest level of benefits and privileges because they need the least supervision. Medium security inmates are considered higher risk than minimum security inmates, but may still have some benefits, such as access to programming and some privileges. Maximum risk inmates are considered the highest risk, requiring the highest levels of supervision and without access to most of the jail's programing and privileges.
Inmates are housed in several different housing types, often based on their classification level. One housing unit is known as the Close Custody Unit (CCU). The CCU is a traditional cell structure, which is designed to hold inmates who are considered more violent or, for other reasons, cannot be housed with the general population. The CCU can house up to 130 inmates. The rest of the jail is set up in a direct supervision model. Direct supervision is designed in pods. The pods contain dorms, which hold 92 inmates in the male dormitories and 56 inmates in the female dormitories. There are no single cells in the dormitory areas; instead, inmates each have their own bed or bunk. The inmates share a common area. Because these inmates are lower-risk, usually a single deputy is sufficient to supervise a dorm.
Jail Address:
Ada County Jail
7210 Barrister Dr.
Boise, ID 83704
Mailing Address:
The Ada County Jail mailing address is:
Ada County Jail
7210 Barrister Dr.
Boise, ID 83704
Inmate Mailing Address:
To send inmate mail via the U.S. Postal Service, you send it to the following address:
Inmate's Full Name
Inmate's JID number
C/O Ada County Jail
7210 Barrister Dr.
Boise, ID 83704
Inmates can send mail to and receive mail from individuals using the United States Postal Service. All incoming and outgoing mail must have the sender and the receiver's full name and address on the mail.
All inmate mail is subject to scanning. Incoming mail will be checked for prohibited items. These items include illegal contraband, but also include contraband, money, escape plans, and any writings that could jeopardize the security of the jail, the inmates, the guards, or the public.
Inmates are allowed to receive written letters and standard (non-Polaroid, standard-size) photographs. Inmates are not allowed to receive Polaroid photographs, oversize photographs, stamps, or envelopes. Inmates cannot receive forwarded items. Inmates cannot receive any type of mail containing images or depictions of profane materials, including depictions of sexual situations, nudity, or sexual acts.
There are other types of mail that inmates cannot send or receive. These prohibited items include: intimidating or harassing statements; gang-related writings or drawings; messages (codes) that are not easily understood; any plans that violate jail rules or any laws; or plans to send contraband in or out of the jail. Whether or not mail is considered prohibited is at the discretion of jail officials. If mail is not allowed to be delivered to inmates, it might be refused, confiscated, destroyed, placed in inmate property, or returned to sender. If the mail contains illegal materials or otherwise violates the law, it may subject the sender to prosecution.
Inmates can receive newspapers, magazines, books, and other publications, but they cannot be sent from individuals. Instead, they must be sent directly from a publisher or bookstore. Furthermore, if an inmate has a subscription, that subscription will not be forwarded after the inmates leaves jail. Inmates are prohibited from ordering merchandise or subscribing to services.
Phone Numbers:
There is a main contact number for the Ada County Jail: 979-864-2338. You can reach the booking desk at extension 2240. You can reach central control at extension 2333. You can reach jail ID at extension 2340. You can reach the jail kitchen at extension 2245. You can reach the jail lieutenant at extension 2261. You can reach the jail nurse at extension 2243. You can reach the jail property room at extension 2334. You can reach the jail sergeants at extension 2514. You can reach the visitor information center at extension 2338. The fax number is 979-864-8003. To contact the Ada County Sheriff via email, you can reach him at [email protected].
Jail Roster:
Ada County maintains an inmate roster, which is updated every 24 hours. This list has inmates alphabetically, but you must search by the first letter of the inmate's last name in order to pull up results. Once you type in the first letter of the last name, you get the entire roster of inmates with names starting with that letter. You see part of each inmate's record, including their full name, mugshot, JID number, arresting agency, charge, and severity of charges.
Once you have located an inmate, you may be able to select the inmate's individual record and view a larger mugshot, but that capability is frequently impaired. However, because it appears that all of the inmate's significant information is available in the small record view, the only thing that you really lose when this ability is impaired is the ability to view a larger mugshot directly from the screen.
Recent Arrests:
Ada County maintains a list of recent arrests and you can search its jail records to see all inmates processed in the past 24-hours.
Go the Ada County Jail webpage and click on the link located in the right side menu "Arrest Report". Once you get to that page you can change the search criteria at the top to show all inmates that were booked in the past 24-hours, last 4-hours, or last 5-days.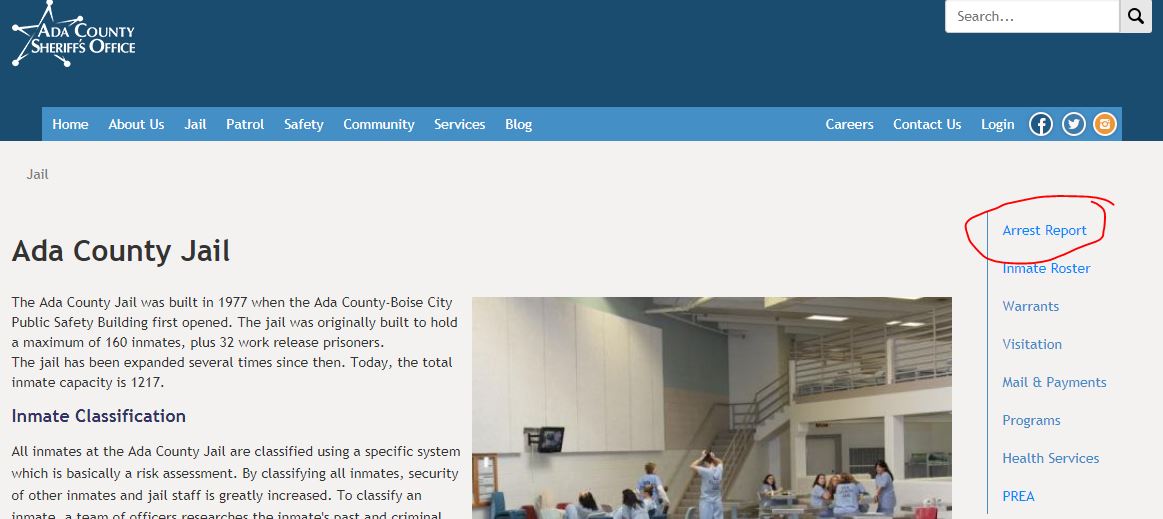 The Ada County Sheriff's Office also maintains a blog where the office may describe some recent arrests. However, the blog seems to focus on big arrests, such as felonies, and should not be considered a complete listing of all recent arrests or inmate bookings.
Mugshots:
Ada County Jail's inmate search feature does include mugshots in the inmate records. However, Ada County does not maintain a mugshot-only database. Nor is it possible to view the mugshots of persons not currently incarcerated in the Ada County Jail. However, you can make a public records request for criminal records, which will be granted as long as the request fulfills statutory obligations.
The Ada County Jail does not provide criminal background checks for the public. To get that information, you need to request a background check through the Bureau of Criminal Identification, which is located at 700 S. Stratford Dr., Meridian, ID 83642, and can be reached at 208-884-7130.
Visitation:
All visitors must comply with visitation rules at all times or the visit may be terminated and the visitor's visitation privileges may be revoked.
All visits are online visits using the Ada County Jail Video Visitation system.
Inmate have two free 25-minute online visitation sessions each week. Visitors or inmates can purchase additional sessions each week for a small fee. There are no on-site visits at the Ada County Jail; all visits are remote video visits. To use video visits, you must have a computer with high-speed internet, a webcam, a microphone, & speakers. There is no limit on the number of remote visits an inmate can have each week, and they are scheduled on a first-come, first-serve basis. After the first two visits, there is a $9/ 30-minute visit fee. Visitation hours vary, but the on-line visitation scheduler will only allow you to schedule visits during available visitation times at the facility.
The Ada County Jail uses the Telmate system for video visitations. You can schedule visitations at https://www.gettingout.com/ada-county-jail/ or call 1-866-516-0115. If you have questions about online visitation, you can call 1-866-516-0115.
Inmate Phone Privileges:
Inmates can place outgoing calls, but cannot receive incoming calls. If you have an emergency and you feel like the inmate needs to be contacted, you can contact the jail, but the jail will not take messages for inmates and generally will not relay information to inmates.
Most, but not all, inmates are allowed to purchase phone time that they can use to make outgoing calls. They can use the money in their inmate accounts to make these purchases and money does not have to be deposited to a separate phone account.
There are three ways to add money to an inmate's account. You can add the money in person by using a kiosk at the Ada County Sheriff's Office, using cash or VISA/debit cards. You can add money online at: www.gettingout.com/ada-county-jail/. You can also add money via phone at 1-866-516-0115. Telmate charges to use these services. If you have any questions, you can contact the jail directly at 208-577-3000.
There are some general rules regarding inmate phone calls. First, all phone calls may be monitored or recorded. Second, inmates are only permitted to talk to people at the number they are directly contacting. Three way calls are call-forwarding are both prohibited and may result in loss of phone privileges. The person assisting you in making your three-way call will have their number removed from the system as well as the number the call is forward to.
Inmate Trust Accounts / Commissary:
Ada County Jail uses Telmate to handle deposits for its inmate accounts. Telmate handles deposits for commissary accounts and for inmate phone accounts.
At the Ada County Jail, inmates can make a wide variety of jail commissary purchases, including: candy, snacks, beverages, paper, pens or pencils, shoes, and clothing. Inmates can make these purchases as long as they have sufficient funds to pay for them and are not on any type of behavior-related restrictions.
However, it is important to note that inmates do not receive the bulk of each deposit. Anytime a deposit is made into an inmate's account, the first $15 is placed in an inmate's personal account, which is used for medical co-pays while the inmate is in custody. The remaining money is automatically placed in an inmate's commissary account. Therefore, an inmate would not receive any money in the commissary account if two $15 deposits were made into that account.
Inmates must have a balance of $15 in his/her personal account at all times, then any above balance can be used for commissary items, but the personal account cannot be used to pay for commissary items.
An inmate who has no money in his/her commissary account for seven days prior to the commissary request may be supplied with personal hygiene items as determined by jail staff. All inmates will receive three stamped envelopes and writing paper each week.
The funds from the commissary program fund items used by and for inmates, such as chairs, books, board games, TVs, law library materials, and supplies for indigent inmates.
Finally, Idaho Code § 20.607 requires the Sheriff to seek reimbursement for incarceration costs for all inmates. The cost is $25 per day, up to $500.
There are three ways to add money or send money to an inmate's account. You can add the money in person by using a kiosk at the Ada County Sheriff's Office, using cash or VISA/debit cards. You can add money online at: www.gettingout.com/ada-county-jail/. You can also add money via phone at 1-866-516-0115. Telmate charges to use these services. If you have any questions, you can contact the jail directly at 208-577-3000.
Bail Information:
Bond for the 4th District Court for Ada County is handled by the Pre-Trial Services Unit (PSU). The PSU helps the court determine if someone can be safely released into the community before resolution of a criminal case; ensures that defendants attend court hearings; and allows for conditional supervision of some defendants. The PSU does this by engaging in evidence-based risk assessments that are designed to objectively predict risk to the community if someone is released from jail while their criminal case is being resolved.
To determine this risk, inmates may need to cooperate with pretrial officers prior to the court making the pretrial release decision.
Contact information for the PSU is:
Pre-Trial Service Unit
7180 Barrister Drive
Boise, ID 83704
208-577-3444
They are open 8am to 5pm; defendants must be at the office by 4:30 to receive same-day services.
The PSU can help determine if a defendant is eligible for bail and the conditions of any pretrial release, but does not handle the payment of bail.
If you need the services of a bondsman, you can find one in the Yellow Pages or online. Neither the jail nor the county will recommend any particular bondsman or bond company.
Conclusion
The Ada County Jail, located at 7210 Barrister Dr., Boise, Idaho 83704, is the county jail facility for Ada County, Ohio. The facility is a minimum-maximum security facility that has been designated as a temporary holding facility. It houses both pretrial detainees and post-conviction inmates awaiting sentencing or movement to another facility. Inmates are classified according to security risk and placed in the appropriate housing levels, and many defendants are diverted through pre-trial services for monitoring outside of the jail facility while awaiting trial. There are no long-term inmates at the Ada County Jail. Because it is a short-term facility, the inmates at Ada County Jail do not have access to many amenities.