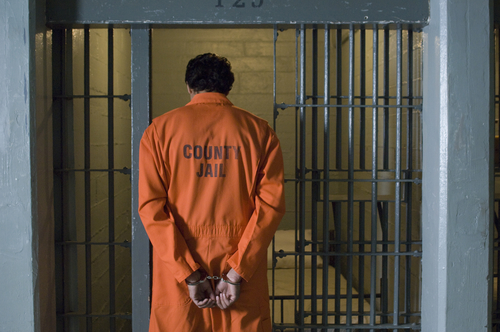 If you have never looked for an inmate before, you may be surprised to find that the process is somewhat complicated.  In fact, for people who are unfamiliar with the criminal justice system, everything about it can be intimidating.  Fortunately, we can help you navigate this part of the criminal justice system and help you answer the simple question of who's in jail,  by helping you find the inmate or detainee for whom you are searching.
In this article, you will notice we use several different terms to refer to a person who is incarcerated: inmate, detainee, defendant, and prisoner are the terms you will encounter most frequently.  We use these terms because they are the terms that most people use when trying to find out information about incarcerated people.  Your jurisdiction may use different terms to describe incarcerated people and may label them differently depending on whether they are being detained pre-trial or post-conviction.  Our use of these terms reflects their common usage, not any legal usage that may apply in your state or jurisdiction.
Why Search for Inmates?
There are many reasons you might be trying to find out who's in jail.  Perhaps you are searching for an incarcerated friend or loved one, maybe you are uncertain whether someone who has been arrested is in jail, or maybe you are a crime victim who wants to know if and when a perpetrator is released. Some people can even use an inmate locator service to determine if a person was incarcerated in that particular facility at an earlier period of time, though most of these historic services are limited to searching for records beginning in the early 2000s, when many of these systems initially became automated.  Whatever your reason for looking for an incarcerated individual, you have probably discovered that the process is more complicated than most people realize.  There is no single, centralized inmate locator system.  In addition, many states do not even have single, centralized inmate locator systems for their state prison systems.  As a result, you may have to put in a little time, effort, and creativity to locate an inmate.
Information You Need for an Inmate Search
You can do most inmate searches with very basic information.  Most of the inmate locator databases will let you search by first or last name.  However, you must be aware that the more information you have about an inmate, the easier it will be for you to determine if a record you found matches the person for whom you are searching.  This is especially true if the person has a common first or last name.  Therefore, make sure you have any additional information you have about the incarcerated person available when you conduct your search.  This information can include: date of birth, age, race, and gender.  If you happen to have an inmate identification number, using that number can greatly simplify your search.
Incarceration in the United States
Even if there was a single nationwide inmate search system, finding an inmate in the United States would still be a daunting process.  That is because there are more than 2.3 million people incarcerated in the United States.  These inmates are housed in "1,719 state prisons, 102 federal prisons, 942 juvenile correctional facilities, 3,283 local jails, and 79 Indian County jails as well as in military prisons, immigration detention facilities, civil commitment centers, and prisons in the U.S." (Wagner & Rabuy, 2016).  Furthermore, those numbers only refer to people who are currently incarcerated and not the number of people who are otherwise attached to the criminal justice system, such as those awaiting trial but released from jail, people on probation, and people on parole.  When you factor in those numbers, the number of people attached to the criminal justice system becomes overwhelming.  However, while these numbers may seem huge, they only provide the tiniest bit of information about jail in the United States.
In fact, each year 11 million people are cycled through the local jail systems and more than half a million individuals are released from incarceration.  Many of these people are released very quickly following arrest, but it can be especially difficult for friends and family members to locate recent detainees.   The longer it takes to locate a recent detainee, the longer it takes to make bail arrangements and secure the inmate's release.  On the other hand, some people are worried about detainees being held for too-short of a time period.  For example, a victim of domestic violence may want to make arrangements to leave the home while a perpetrator is detained.  Therefore, knowing whether or not the perpetrator is still incarcerated and having some idea when and if the perpetrator will be arraigned and offered bail can be critical information.
Victim Notification
Furthermore, while some people have to report their post-release whereabouts to various reporting agencies, not all do.  Generally, convicted sex offenders will be required to list themselves on sex offender registries, but if they fail to do so it can be difficult for law enforcement to provide location information on them.  Likewise, parole and probation generally require a defendant to register address information with a supervising officer, but may not zealously enforced.  Therefore, if you are a victim who is concerned about the location of an offender, you may want to see if your area offers any type of victim-notification when an offender is released.  There is a nationwide victim notification network, VINELink, which is discussed later in this document, but many local jurisdictions maintain their own victim notification systems.  However, you almost always have to opt-in to victim notification services.
Finding Out Who Is in Jail: Police Blotters
Sometimes, you may not be looking for a particular inmate, but, instead, looking for an overview of who is incarcerated in a particular jail or prison facility.  Some local sheriff's departments, police departments, and jails maintain currents lists of all recent arrests and people currently incarcerated in their jails.  Those lists can help you find a specific individual, but they can also provide a snapshot of criminal activity in a particular place at a particular time.  These lists may be known as police blotters, arrest reports, criminal activity reports, jail lists, or inmate lists.
San Diego maintains one of the country's most famous Who's in Jail lists.  Who's in Jail San Diego searches the San Diego Sheriff's Department Jails two ways.  It can provide a list of recent detainees, as well as providing a traditional inmate locator service. It is a great example of an inmate locator list that is comprehensive and thorough.  SD Sheriff Who's in jail lets you search for inmates using first or last name.  San Diego Who's in Jail contains a direct link to the inmate locator for the Chula Vista Police Department.  Finally, Who's in Jail SD receives regular, scheduled website maintenance.  One thing that people discover, particularly with smaller jurisdictions, is that inmate locator services may be out of date.
LaCrosse County, Wisconsin provides a great example of the local law enforcement agency working with the media to provide updated lists of Who's in Jail La Crosse.  The local law enforcement agency partnered with the local newspaper, the La Crosse Tribune to publish a searchable database of jail inmates including arrest information, which was instantly popular with the community.  This information was not always updated to include information subsequent to the arrest, but did provide residents with a snapshot of law enforcement and arrest activity in their community.
Finding an Inmate When You Know the Jail or Prison Where the Inmate is Being Detained
Oftentimes, you know the jail or prison where an inmate is being detained, but need to use the inmate locator system associated with that jail or prison to find out information about the prisoner.  When you know where a prisoner is being held, you can go directly to that jail or prison website and search for its inmates.  Almost all larger jail and prison facilities make this information available online, but some do not.  If it is not available online, then you can call the facility to ask them about the inmate's status.
Some people wonder why you would need to use an inmate locator tool if you know where an inmate is being detained.  One of the primary reasons that people use inmate locator tools is to find out if an inmate is still in custody or has been released from custody.  However, people also use inmate locator tools for important information about keeping in contact with inmates.  Many times, an inmate's cell block information is necessary if you want to write to an inmate.  In addition, cell block information is often used to determine when you can visit an inmate.  This type of information can change relatively frequently, due to the changing conditions inside of a correctional facility.  Therefore, if mail or visitation changes based upon housing assignment in the facility, you will want to recheck that information prior to sending mail or going for a visit.
The type of information available through an inmate locator service varies from facility to facility.  For example, the Pinellas County Who's in Jail Service has records, not only for people who are currently detained in the Pinellas County Jail, but also for anyone who has been incarcerated there since November 28, 2005.  Therefore, it can provide some public record information regarding who's in jail in Pinellas County currently, as well as historic jail information for people in Pinellas County, making PCSO Who's in Jail a good place to start a criminal record search for someone you know has been a Pinellas County resident since 2005.  In contrast, when using the Who's in Jail Orange County inmate locator system, Who's in Jail OC, you will only be able to find information on people who are currently incarcerated or who have been released within the last 30 days.
Catawba County, North Carolina maintains a very traditional inmate locator system.  Catawba County Who's in Jail links to an alphabetical list of all inmates currently being detained in the Catawba County Jail.  The information includes the inmate's name, the charge, when the inmate is going to court, bond amounts, court docket information, and the arresting agency.  In addition, when you locate an inmate you can choose the "view" option which links to the inmate's booking photo or mugshot, allowing you to determine whether the inmate is or is not the person for whom you are searching.   This makes the Who's in Jail Catawba County one of the most functional who's in jail lists in the nation.
Locating Federal Inmates
If a person is convicted of a federal offense, then he or she has probably been remanded to the custody of the federal Bureau of Prisons.  The Bureau of Prisons maintains the Federal Bureau of Prisons Inmate Locator tool, which allows you to use an inmates name or inmate number to look up the inmate.  The inmate information will tell you where the prisoner is located, the inmates' age, the inmate's sex, the inmate's race, and the inmate's expected release date.  From that same page, you can click on the website of the prison where the inmate is located to find out additional information about that particular prison.  One important caveat about the Federal Bureau of Prisons Inmate Locator tool is that it will not reflect when an inmate is in transit.  When the Bureau of Prisons moves an inmate from one facility to another, the decision is kept from the inmate until the last minute and all transfer plans are kept secret in order to reduce or eliminate the possibility of an inmate escaping from custody during a transfer.  Therefore, there may be times where an inmate's actual location is unknown to the inmate locator system for days at a time.  The inmate will probably be listed as still being in the old prison.  This is not a glitch or a flaw, but an intentional omission to promote and enhance safety.
How to Locate an Inmate
Finding an inmate can be difficult, especially in larger metropolitan areas where there may be several different law enforcement agencies that have jurisdiction.  However, there are several steps that you can take to help you find out where an inmate is being held.
First, do you know whether the inmate is a pre-trial detainee or a post-conviction detainee?  Knowing an inmate's status can help you determine where the inmate may be being detained.  Pre-trial detainees include any person who is being held between arrest and trial.  With very few exceptions, these individuals are held in local jail facilities, either municipal (city) jails or county jails.
To find a pre-trial detainee, start with the law enforcement agency that made the arrest.  In some areas, municipal police departments will each have their own jail facilities.  In other areas, municipal police departments might share jail facilities with other cities and towns or with the county.  You can contact the arresting agency to find out information about the jail facilities that they use.  They may even be able to tell you where a particular inmate is being detained or where an inmate will be moved after a bail hearing or arraignment.
Furthermore, you may need to find out what kind of people local jails hold.  For example, many smaller local law enforcement agencies might have small jail facilities that are designed to hold people from arrest until an initial appearance before a judge or a magistrate.  These facilities are technically jails, but operate more like holding tanks.  Inmates who are not released after their initial appearance before the judge might then be moved to a different facility to be held until trial.  Knowing this information can greatly simplify your search.
Of course, you may not know what law enforcement agency made the arrest.  In fact, in some areas of the country, it is possible for three or more local law enforcement agencies to exercise jurisdiction, in addition to a number of state and federal agencies. There may even be multiple agencies present at an arrest; this is particularly true if the underlying crime is complicated or violent.  In those instances, make a list of all possible law enforcement agencies that could have made the arrest.  You may be able to determine which law enforcement agency was involved by the type of crime charged or the conditions of the arrest.  If those agencies operate police blotters, you can check those blotters to see whether the inmates are on the arrest list.  Otherwise, you can use the inmate lookup features at each of the jails to check for the inmate.
Another reason that finding pre-trial detainees can be daunting is because there may be a gap between booking time and the person's appearance on a jail roster.  If you are concerned about finding an inmate's location in order to be able to post bail, you may want to consider employing a local bail bondsman who is familiar with the jails in a particular area, to help you.  You can also try calling the local law enforcement agencies and asking them whether they made a particular arrest.  Many of the larger agencies maintain phone numbers specifically dedicated to providing information on detainees, including bond and court information.  Smaller agencies may not have the same automated systems, but will still probably be willing to help you locate a defendant.
Locating Post-Conviction Detainees
Finding post-conviction detainees is sometimes an easier process.  The first step is knowing whether the defendant was convicted of a federal or state crime. Defendants who are convicted of federal offenses are remanded to the custody of the federal system, while defendants who are convicted of state offenses are remanded to the custody of the state.   Federal inmates are all listed in a single database, which makes them easy to locate, even if they are moved from facility-to-facility.  State inmates may be remanded to a particular facility post-conviction or might be listed in a state-wide prison database, depending on the state of conviction.
The second step in finding a post-conviction detainee is knowing the crime of conviction.  Crimes with a sentence of less than a year mean that the defendant is probably serving his sentence in a state or local jail facility.  However, crimes with sentences of greater than a year mean that the person is probably serving his or her sentence in a state prison facility.  Therefore, if you know the crime of conviction, then you know where to start looking for the inmate.
The VINELink System
One of the best tools for locating an inmate is the VINELink system.   Though we are identifying it as an inmate locator system, VINE is, at its heart, a victim notification network.  VINE tracks inmates in affiliated prison or jail facilities, and then provides information on those inmates to people using the VINE system.  While VINE is not universally used by prison and jail facilities, it is used by a large percentage of prisons and jails in the United States, and can be a great place to start a search for inmate information.  In addition to incarceration information, VINE tracks criminal case information and custody status changes.  It can be accessed 24 hours a day.  In addition, you can register to receive updates from VINE in a number of different ways, including: phone, email, text, and TTY.  The service is free-of-charge to registrants, and is also confidential.  To anonymously check on an offenders status, you can visit www.vinelink.com, call a toll-free number, or even use the VINEmobile app.
Conclusion
While searching for who's in jail can be complicated, there are a number of tricks and tools that can help you find someone who is in the criminal justice system.  Regardless of which approach you use, the more information you have about the defendant and the underlying crime, the easier it will be for you to locate that defendant in a correctional facility.
References
Wagner, P. & Rabuy, B.  (2016, March 14).  Mass incarceration: The whole pie 2016.  Retrieved
April 5, 2017 from Prison Policy Initiative website: https://www.prisonpolicy.org/reports/pie2016.html